The hottest breakfast, brunch & lunch franchise in Texas is now expanding in the US!
A toast to a great opportunity
The Toasted Yolk Cafe brings experienced restaurant professionals and savvy business entrepreneurs the opportunity to operate a limited daypart concept (breakfast, lunch, brunch only!) – with a difference.
Backed by years of experience in food service, and with multiple locations under our belts, we are committed to bringing our quality-focused mix of breakfast and lunch classics to the masses. Yet, each of our menu items comes with a unique contemporary spin and can be accompanied by a wide selection of beverages, including draft beers and a full wine list.
It all adds up to a breakfast-lunch restaurant franchise concept – and opportunity – unlike any other. Our fully-supported restaurant business model is designed for maximum bottom-line impact and growth, with both streamlined staffing needs and hours of operation. And we're looking for seasoned professionals to join us as we grow!
Tasty Owner Benefits
Quality of Life. Being open from 7am – 3pm, you can actually have a life and so can your employees. This easily can make you the employer of choice.
One Shift Operation. Toasted Yolk maximizes HR resources which gives you the opportunity to hire, train and retain the best talent available.
Booming Category. Breakfast, Brunch & Lunch is still one of the hottest categories in the Casual Dining space and The Toasted Yolk has more than doubled it's size in 24 months.
Multiple Revenue Streams. Catering, To-Go, 3rd Party Delivery, On-Line Ordering, Private Events.
Excellent Demographics & Check Average. Our customers tend to be solid middle and upper middle class who have the money to dine out frequently, they appreciate premium food & a quality dining experience. This is why our check average comes in at over $16 per person.
Chef Driven Menus. Whether it is our delicious breakfast offerings and signature cocktails, or our proprietary "Arnolds", this is a foodie menu for foodies. Where other daytime cafes fall short with lunch, we celebrate it! The best lunch menu in the category featuring excellent burgers, scratch made soups & salads and stacked sandwiches.
Personalized & Meaningful Support. Very simply, we win ONLY if you win. Our support starts before your agreements are signed. We have a dedicated, experienced staff that is truly focused on making our system and your operation excellent. The support and training is real and really effective. In addition, we scrutinize our candidates, choosing only those that are a cultural and operational fit. Shared passion, shared commitment, shared success!
Proven Success. The Toasted Yolk Café has dominated the highly competitive South Texas daytime market since its inception in 2010. Our AUVs are among the highest in the industry which speaks to the quality of our food & operation as well as our commitment to the support of our franchise system. Most importantly we are multi-unit operators ourselves and have built our system based on real, practical knowledge.
Flexible Build-Out Options
The Toasted Yolk is focused on helping you find ideal sites and we are very flexible on what those sites might be. Here is an overview of the criteria.
Second Generation space including freestanding sites will be considered.
75,000 people within a three-mile area
Close to business, schools & medical
Household incomes above $100,000
Home values $250,000 +
4000 – 5000 square feet
Patio preferred
150 seats minimum
Easy and convenient egress and ingress, signalized intersection
Storefront and signage has prominent visibility from major streets
One parking space for every five seats
Ability to obtain a full liquor license
Regional shopping area with complementing national retailers. Target, Costco, Whole Foods, Trader Joe's, Upscale grocery-anchored preferred
Amazing Growth Equals Great Potential
With 10 new locations having opened just in the last 24 months and another eight on their way, The Toasted Yolk is very quickly expanding to DFW, San Antonio, and Palm Beach Co., FL with many other markets under consideration. The same store sales have continued to grow year over year, so the time to join the team is now!
The Toasted Yolk Café format and the menu have a wide range of demographic appeal, and we're here to help you reach your guests. From finding the right location to operational management support to marketing assistance, our goal is to help maximize your revenue potential at every stage.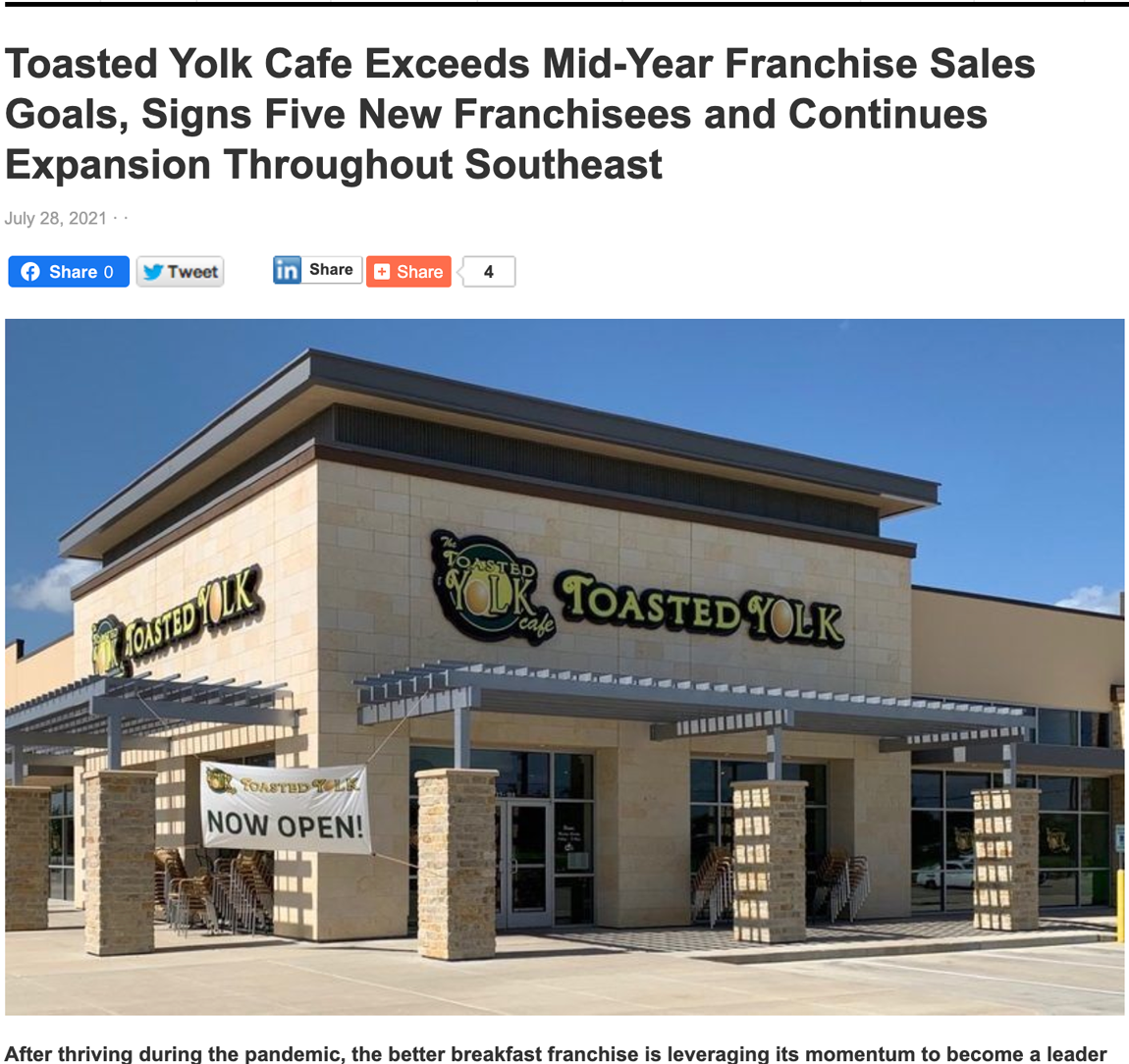 Toasted Yolk Cafe Exceeds Mid-Year Franchise Sales Goals, Signs Five New Franchisees and Continues Expansion Throughout Southeast. Read More
From exploring opportunities to getting your restaurant started to growing your business…
The Toasted Yolk Cafe franchise owner will receive insight gained from our years of experience in the breakfast restaurant industry, and we're here to help guide you to make the most of this opportunity.
In addition to being able to leverage our brand, you will also have our full support team to help you realize your dream of owning a restaurant that sets itself apart from the usual fare.
So while you're leveraging your (or your operating partner's) restaurant experience to grow this unique and exciting concept, you won't be going at it alone.
Here's what restaurant franchise support we offer.
• A complete pre-opening training course at franchisor headquarters, covering key topics such as restaurant start-up, kitchen procedures, and more.
• Assistance with start-up including helping you choose a location; site build-out, permits, layout, and décor; ordering and installing equipment; and on-site support during your opening.
We even have our own design, architecture, and construction teams at your disposal, and a warehouse of approved décor items you can tap into – we have you covered!
• Onsite training at your restaurant franchise location, plus ongoing support with refresher training, periodic field visits, and regular business review sessions to help your restaurant continue to operate in peak form.
• A comprehensive operations manual with recipes and food prep steps, and other important details of daily operations to help you and your staff effectively implement our concept at your location.
• Access to our approved supplier network for equipment, supplies, and fresh and packaged kitchen and storage items.
• Technical assistance with the centralized restaurant point-of-sale (POS) system and accounting software, our gift card programs, and a recommended internal security system complete with webcams and online monitoring.
• Marketing support, including use of the traditional local media; special campaigns, and community outreach; and special guidance in the creative use of social media like Facebook and Twitter to increase brand awareness.